The Advantages Of 3D Product Animation For Your Business Growth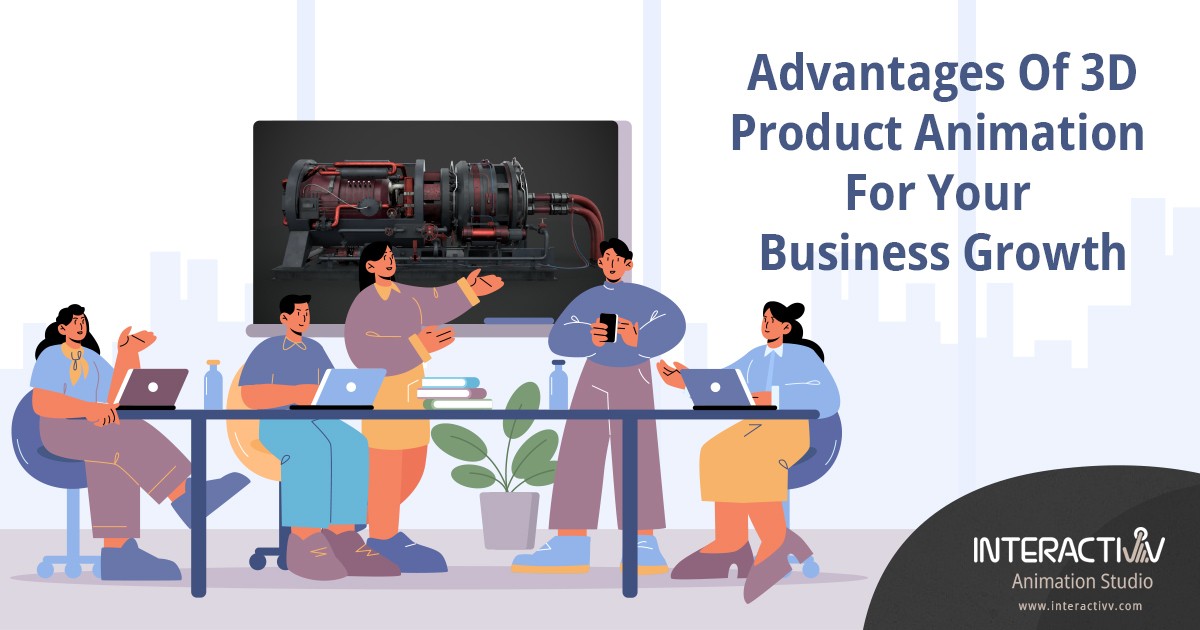 3D product animation has lately become one of the most popular ways used by companies to showcase their products. If you think of it, most of the leading brands across every industry have used 3D product animation for promotional purposes or to provide information on their products. This is because the technique has consistently proven to be fruitful and helps towards business growth. Even if your business has entered the market only recently, well-made product animation videos can help ensure rapid progress.
How does 3D product animation work?
You are likely familiar with 3D product animation already, through movies, video games, or television series. It involves making animated videos using computer-generated digital objects and environments that replicate the principles of a three-dimensional world. In the case of 3D product animation, a 3D model of a physical product is rendered and used as one such object.
How does 3D product animation aid in business growth?
There has been a sharp rise in the demand for 3D product animation services, and there are valid reasons behind it. Leveraging this technology can help a business grow fast and efficiently, thanks to the various perks it offers.
1. Attracting potential investors
Especially for new businesses or companies trying to launch an ambitious project, attracting investors can be a daunting task. Unless you can impress them with the product you plan to launch and convince them of its potential, they wouldn't be willing to invest in the project. This is where 3D product animation can be far more helpful than other means to showcase product concepts. You can give your investors a detailed overview of the products, covering all its features and even the internal technologies.
2. Improving SEO performance
The use of 3D product animation on your website can also improve its SEO performance significantly. Google's search algorithms are programmed to prioritize and rank the search results exactly the way a human being would. This means websites with helpful and attractive content rank near the top. If you ever wondered why sophisticated-looking websites with beautiful animation videos tend to rank higher – this is why. Besides, the SEO rankings also depend on how much time an average visitor spends on your website, and video content can get them to stick around for longer.
3. Catering to your client's taste
Another advantage of 3D product animation is that you can get your clients to choose how they want your new product to be. For instance, you can create videos of a product you plan to come up with, before actually manufacturing it. This means you can visualize and render several designs through 3D animation and show them to your clients, allowing them to choose. You'll therefore be able to cater to their tastes much better.
4. Efficient marketing
Thanks to 3D animation videos, businesses can use their advertising budget far more efficiently. This is because 3D animation is a very cost-effective way to create high-quality advertisements. Even a leading 3D product animation agency can provide you with reasonably priced services. This leaves a bigger budget for other marketing activities, such as running ad campaigns. Naturally, such efficient marketing can help the business grow faster.
5. Standing out from the rest
One of the key purposes of publishing a great video on your products is to make them stand out from other similar products in the market. This is especially easier with 3D animation, as one can be infinitely creative when making animation videos. By incorporating unique styles, sound effects, and visual effects, professionals can make sure a 3D product animation video can capture attention. Especially if your business is new or faces heavy competition from brands with similar products, this can be a great advantage.
6. Greater visual clarity
Compared to conventional product presentation videos and advertisements, videos made using 3D animation offer greater visual clarity. You can provide the audience with a virtual experience of the product by zooming in and highlighting various features. You could even give them a view of the internal structure of a product to highlight specific components. A classic example of this is the highlighting of processor chips in product animation videos for smartphones and computers. This way, the audience can understand your product better.
7. Personalized advertisements
The need to personalize your ads for the target audience has always existed, but in today's competitive market it's more important than ever. Unless your target audience finds them appealing, they'd go for a different brand that addresses their tastes and requirements better. The limitless creativity that accompanies 3D animation allows companies to create personalized ads for their audience and capture the market quickly.
8. Branding
Besides promoting your products and informing the audience about them, a 3D product animation video can also help in brand-building. Professional agencies that offer 3D animation video services put a great deal of attention to this aspect to ensure the best results. For example, they can incorporate the video with the brand's color schemes and slogans. This ensures that the viewers can always relate the ad to the brand. The content of the video can manipulate how they perceive the brand, and thereby build a positive brand image.
9. Increased credibility
Incorporating 3D animation videos in your marketing campaign can enhance the company's credibility in the market. Firstly, people are more likely to trust a brand that provides detailed information on its products. It assures them that they are purchasing the right product. Secondly, the use of 3D animated videos makes your business appear to be more sophisticated and well-established.
How to make the best use of 3D product animation in your business?
Working with a reputed 3D product animation agency is the best way to use 3D product animation in your marketing campaign. They can provide you with creative and unique videos for all your products, helping you earn a strong position in the market. Besides, experienced professionals understand your audience well and know exactly how to win them over.