How Your Business Can Benefit from Animated Explainer Video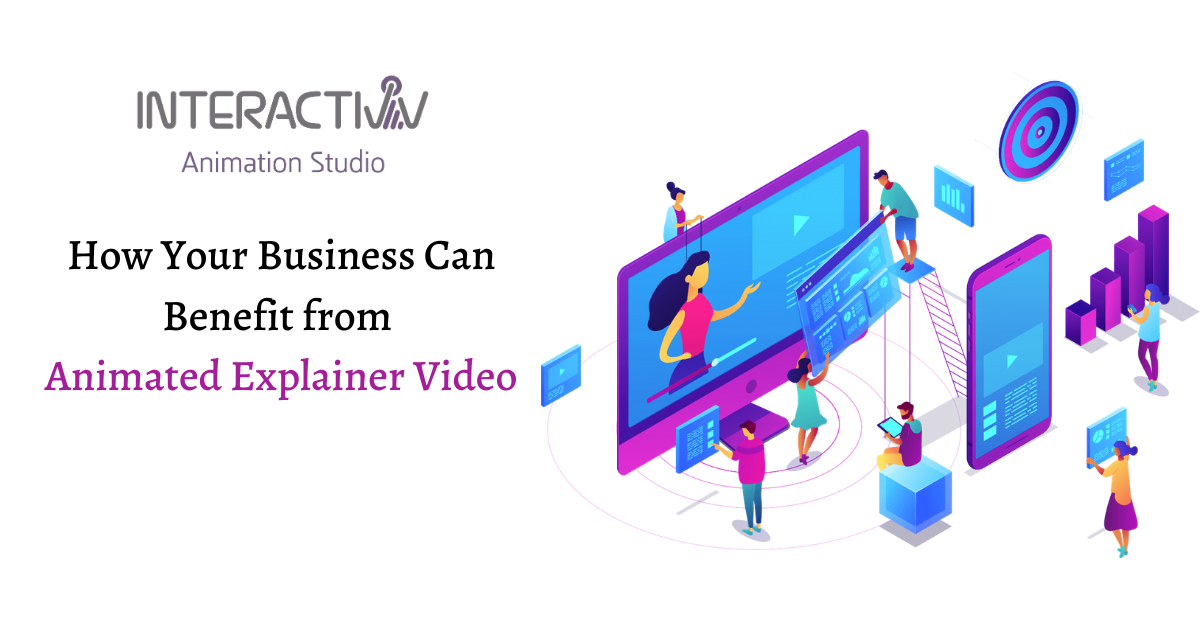 The business owner puts their heart and soul into building up the ideal item. However, even the most impressive products fail to turn into a triumph if not marketed well.
It's a rising trend in organizations for marketing their product. The online world has opened up impactful and straightforward ways to market various products and services.
The most effective ways nowadays to grab the attention of your target audience are good animated videos for your business.
A great animation will not leave anyone indifferent. It grabs the viewer's attention, engages, and makes the audience listen to what a company speaks. These videos help explain the key points about your company or product thoroughly and effectively. If you aim to sell a product, explain a concept or an idea to a large crowd, animated video production is a sure-shot way of keeping your target audience engaged and interested in what you are saying.
As per the analysis of the business community, 81% of businesses incorporating explainer videos in their marketing strategy experience an increase in their sales.  
Also, 95% of people have watched an explainer video to learn more about a product or service.
All you need is a creative video marketing strategy that will help your brand increase its reach while also increasing conversions for your business growth.
If you're still not entirely convinced, then here are the amazing benefits of animated explainer videos to take your business to the next level.
Demonstrate a Problem and Solution 
With an animated video, you can easily demonstrate a problem along with the solution to your viewers. This is perhaps the most effortless approach to presenting your product or service to your target customers. As it involves animation, you're not dependent on shooting, location, or actors.
Positively Impact Website's SEO
Embedding Animated videos on your website is an excellent way to improve your SEO and assist your business with positioning higher on Google. This makes you more visible and open to your possible customers.
Explainer Videos Increase Website Traffic
Explainer videos have the power to attract & engage the viewers. They grab user attention & bring people to your website. This gives an excellent opportunity to showcase your product or services to convert your visitor to potential customers.
As per marketers', embedding videos on your website's landing page can increase conversions by 80%. 
Product animation videos, therefore, have the potential to generate a lot of leads for your company. This isn't including all of the benefits of sharing them on social media and sending them out in your email newsletters.
Businesses aim to reach out to as many consumers as possible and present them with their products or services. 
Social media channels allow users to reach out to millions of people from all over the world.
With the help of an animated video, you can make sure to communicate your brand to your target audience. Whether you are trying to sell clothing or books, any product can be marketed through an animated video, no matter how severe or light-hearted your product is.
Animation videos give a brief idea to users about the products or services. This helps the user in decision-making and inspires them to make purchases and maximize your business profits.
Statistics reveal that including an animated video can increase your conversion rate by a whopping 80%.
Simplify Complex Topics or Products
Animated videos facilitate the ease of making a complex topic simple. They expertly break down incredibly complex topics into creative animated visuals that make it easier for your customer to understand easily. This is what makes animated explainer videos so great for businesses with super technical services, complex products, or hard-to-tell stories.
Are you looking forward to Exploring the Benefits of Animated Explainer Videos?
There are more benefits of animated explainer videos, but to truly explore them all, you'll need an experienced animated video production company for yourself!
Ready to talk video? Contact us today, and we'll listen to your requirement and your marketing goals. Then, we'll take you to our video production process to present you with the most compelling animated solution for your business.