Why Do You Need 3D Animations to Market Products?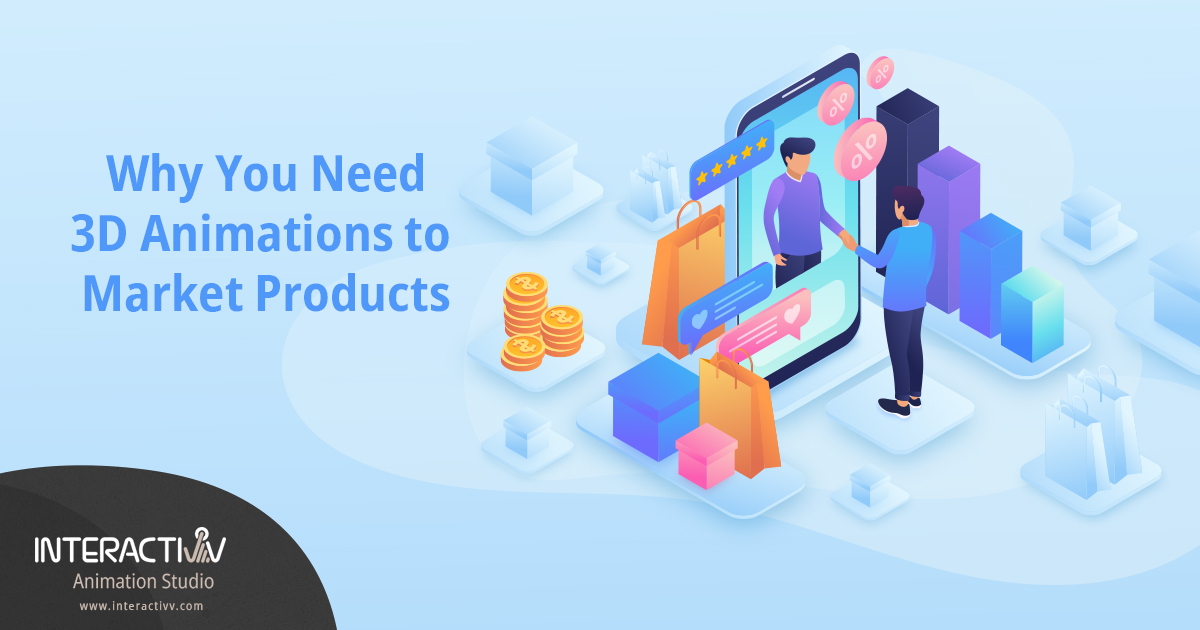 Marketers shoulder the responsibility of carefully selecting the most effective tools when tailoring the company's marketing strategy. Among the most sophisticated marketing tools, 3D product animation is particularly indispensable. Making use of this technology can give you a huge edge in marketing your products. In fact, 3D product animation has even found its place in marketing campaigns by numerous leading brands.
What makes 3D animation an important marketing tool?
The growing popularity of 3D animation for marketing purposes is a clear indicator of its effectiveness. Using well-made animation videos can give a business a huge advantage over its competition, ultimately leading to higher profits. So, why exactly is 3D animation so important in marketing products? Here's why:
1. 3D animation videos stand out
Let's face it – one of the first steps in marketing a product is drawing the customers' attention to it. This can be rather challenging if you are up against tough competition and plenty of similar products already exist in the market. To captivate the attention of your audience, you must market it in a way that stands out. 3D animation is the perfect solution since these videos can be quite unique and attention-grabbing. A good 3D product animation video can help make sure that the product doesn't go unnoticed.
2. It's easy to cover the details
In many industries, advertisements need to be particularly detailed and informative. For tech products, for instance, brands need to create ads that cover the specifications, USPs, improvements compared to previous versions, and other details. With a regular video, this can be a little hard to achieve without making it too lengthy. However, one can easily integrate plenty of infographics in a 3D animated video, along with graphic representations if needed. This makes it convenient to present large a large volume of information through a short video.
3. You can simplify complex concepts
Besides allowing you to present plenty of information through infographics, 3D product animation also makes it easier to explain complex concepts. Let's suppose you are trying to promote a tech product with innovative features. Unless your target audience has strong technical knowledge, they may not understand how the new features work. With the help of 3D product animation, you can easily explain the concept to them through a three-dimensional graphical representation.
4. People love videos
As you may have often observed, web pages with video content tend to show better SEO performance. Now, search engine algorithms are largely based on user habits and preferences, which means users prefer to watch video content. Studies have also shown that if given the option to learn about a product by either watching a video or reading a text-based article, 72% of people would choose the former. All these trends indicate that people would be more willing to learn about a product when the information is presented in the form of a video.
5. A better user experience
Be it an eCommerce website or an official brand page, the user experience it offers matters a lot.  Your customers would be more likely to make a purchase when they get to enjoy a better user experience on the website. That is exactly what a well-made 3D product animation video with eye-catching visual effects offers. It would significantly reduce bounce rate too, enticing visitors to stay on the page and learn more about the product.
6. You have endless possibilities
Compared to videos shot in the real world, 3D animation videos offer endless possibilities. You can get far more creative with it and come up with unique concepts that will help your brand stand out from the crowd. It will even help you avoid various limitations associated with shooting videos, like budgetary restraints, safety issues, and complexity.
7. Helps build a brand image
In addition to promoting your products, 3D animation videos can also help your business develop a favorable brand image. This goes for any video advertisement – the theme of the ad largely determines how the target audience would perceive your brand. However, it's especially applicable to animation videos due to the amazing scope of customization they offer. One can even leverage subtle details like color schemes to tailor the brand image.
8. 3D animation is cost-effective
The cost-effectiveness of 3D animation is another reason behind its widespread popularity in marketing. If you look around a little, you can find professional 3D product animation services from reputed companies at reasonable prices. It's a far more affordable way to make ads as compared to shooting an ad video, especially when the latter involves hiring a celebrity or public figure. A business can significantly curtail its marketing expenses by adopting 3D animation videos.
9. Increased conversion rate
The perks of 3D animation ultimately lead to higher conversion rates. By ensuring a unique user experience and capturing the attention of the audience, these videos can persuade them into making a purchase. When you get videos made by experienced professionals, the increase in conversion rate would be quite noticeable.
Wrapping up
There's no doubt that incorporating 3D animation in your marketing strategy will pay off, provided that you do it right. A cost-effective marketing tool with high returns, 3D animation is indeed a necessity for any business trying to build a prominent and unique brand image. You can easily get such videos made by working with a reputed 3D product animation agency in your region.
You should check out the best agencies that offer comprehensive 3D animation services and get in touch with them. As long as you pick the right company, your 3D animation ads will be up and running before you know it.