How Can 2D/3D Animation Help To Sell Products & Services?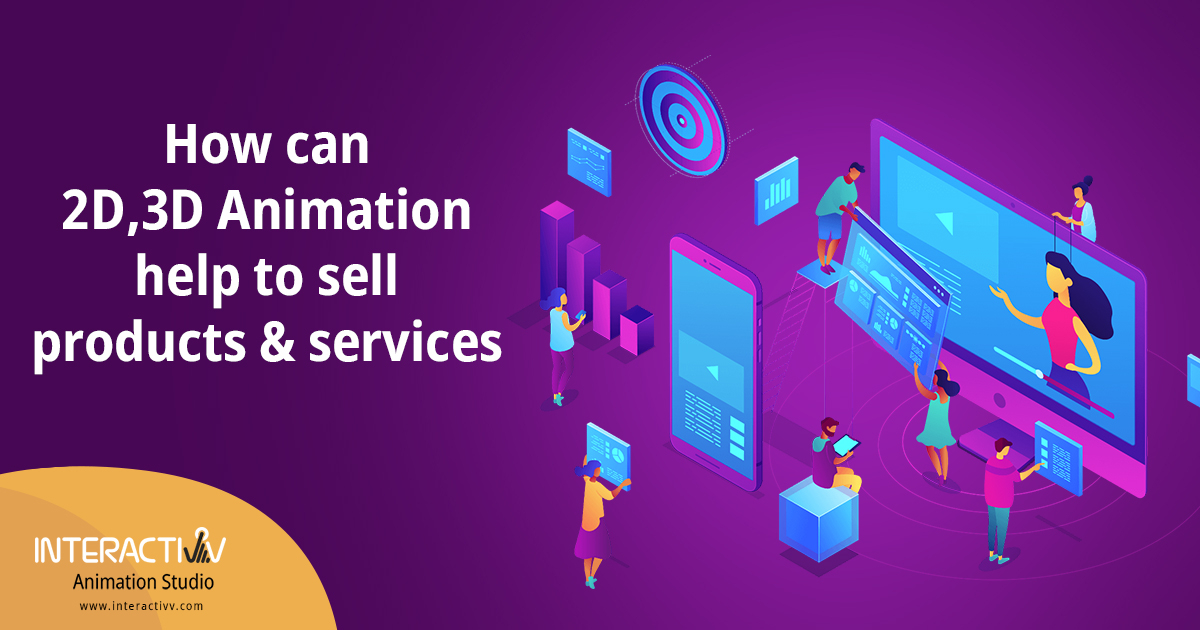 If you're a business owner or a marketer, animation videos are one of the most powerful tools in your arsenal to sell products and services. The demand for both 2D and 3D animation video services has shot up significantly in recent years. Businesses of every scale have been using animation videos for marketing purposes with great success. In case you're weighing your options and trying to choose the right marketing techniques to invest in, you'll find this article helpful.
8 ways in which 2D/3D animation can help you sell products and services
The increasing use of animation videos in marketing is not without reason – businesses aren't using animation just because it seems cool. Rather, animation videos offer numerous advantages over conventional videos shot in real life. Making use of 3D animation video advertisements and other promotional content can help you sell products and services in several ways:
1. Drawing attention to your products
Possibly the best thing about animation videos is that they're great for drawing the attention of your audience. In today's competitive market, standing out from the rest is one of the hardest parts of running a promotional campaign. You need to make sure people pay more attention to your advertisements than your competitors. Unless an ad stands out, it'll be quickly forgotten among the numerous advertisements your audience is exposed to every day. However, this is exactly where animation videos excel. All those beautiful and unique special effects do a great job of capturing attention.
2. Making advertisements fun to watch
Besides drawing the attention of the audience, animation videos are also great for keeping them hooked. Generally speaking, people aren't very fond of advertisements – nobody loves an ad video popping up while trying to enjoy a TV show or YouTube. However, it's a different story when the ad is enjoyable and the viewers feel eager to watch it. Especially when your audience is tired of watching conventional advertisements most of the time, a fun and quirky ad video is a welcome change.
3. With animation, size doesn't matter
Especially if you're trying to sell products of extreme sizes, animation videos are a great way to go about it. With animation, no product is too large or too small. You don't need to invest in powerful macro lenses and other expensive photography equipment to present a tiny product. Similarly, one doesn't require scientific equipment to record videos of microscopic cell activities. In both instances, the desired results can be achieved with the help of a 3D animation video company. Regardless of the size of the products or other things you want in the video, an animation artist can scale it appropriately.
4. Creating hypothetical scenarios
Storytelling is one of the most important aspects of advertising. You need to reach out to your audience through creative stories that they'd find engaging and relatable. However, this doesn't mean the content has to be absolutely realistic and you can't use any hypothetical scenarios. 2D and 3D animation offer ample scope for creative storytelling. This would allow you to come up with hypothetical scenarios that would be impossible to shoot in the real world.
5. Getting around other live filming constraints
Sometimes, what you have in mind for the video might be realistic, but impossible to shoot due to various constraints. For instance, filming is prohibited in certain restricted areas like military bases. If you were to make an advertisement with a story set in such a place, you'll have to rely on computer-generated imagery and animation. The same applies when live filming is too expensive. While it's possible to shoot a video in space, the cost of getting there alone might be out of your budget. Again, a 3D animation expert can bail you out and bring your idea into reality.
6. Clarity and simplicity
This is an area where 2D animation videos are particularly helpful. While detail is necessary, too much of it can overwhelm the audience and divert their attention from the information that actually matters. In a recorded video, this might sometimes be impossible to avoid. You can simplify the whole scenario with an animation video, showing only the important details and hiding the rest. Both 2D and 3D animation is also great for visualizing complex equipment and processes with great clarity.
7. Thorough training and tutorial videos
Advertisements aren't the only type of videos that help you sell products and services. Other video contents like training and tutorial videos that are informative in nature and aim to help your customers are important too. After all, everyone prefers to get the products and services they need from a company that provides them with the necessary support. A 3D animation video agency can help you make thorough and easy-to-understand tutorial videos at reasonable costs.
8. Concept visualization
Trying to create hype for an upcoming product that you haven't completed yet? You aren't alone – many companies rely on pre-registrations and advance bookings to get the funds necessary to complete a project. However, to promote a product, you need to show it to your audience. 3D animation videos are a great way to sell products that you're yet to make, through concept visualization.
Wrapping up
As it turns out, 3D animation video services can be of immense help to your marketing campaign. Provided that you use well-made animation videos crafted by skilled professionals, they will give you a significant edge over your competition. Working with a leading animation company is quite hassle-free too, as they value client satisfaction and know exactly how to achieve it. You simply need to find a reliable company for the job and get in touch with them regarding the project.